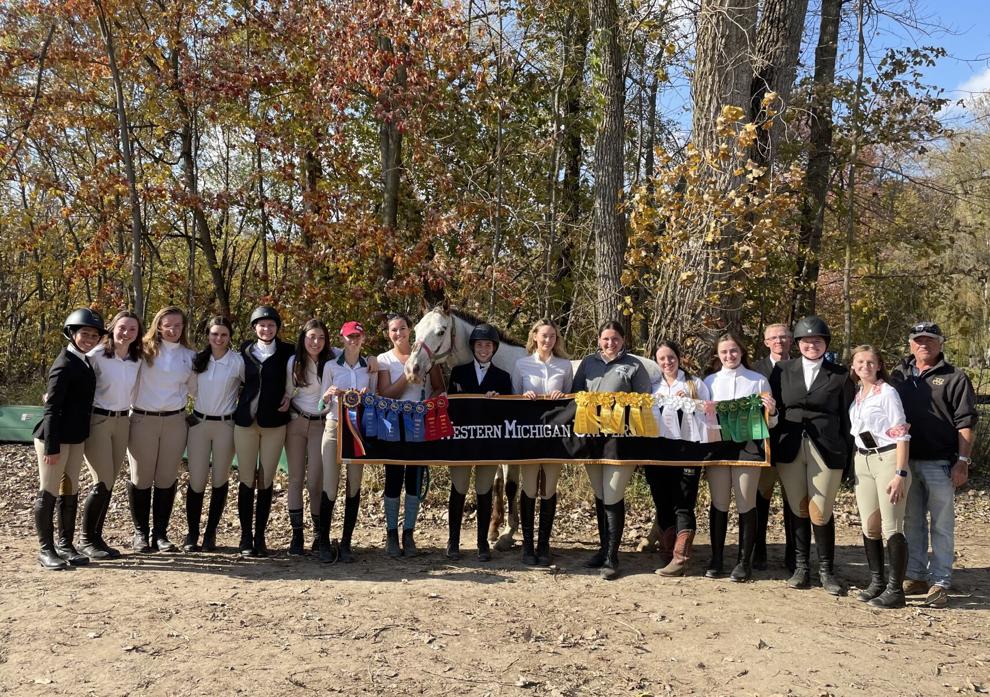 Western Michigan University's equestrian team welcomes old and new riders alike. It is a no-cut team where riders are met where they are to help all members learn and improve upon their current skills.
Biomedical sciences major Talisa Mendoza began riding horses relatively recently. Near the onset of the COVID-19 pandemic, Mendoza began riding while at Grand Valley State University. When she transferred to WMU, her trainer recommended that she start riding with other riders her age.
"I really looked forward to the opportunity and going to horse shows," Mendoza said. "Being able to spend time with more riders was something that just really drew my attention [and] to be able to show competitively."
When new riders join the team, they are partnered with returning riders, who are more experienced in the sport. New riders begin with learning the basics of how to use a brush or what different brushes are for and continue to expand their knowledge throughout the time on the team.
Learning and personal growth doesn't end after learning the basics of riding. All riders, regardless of past experience can learn from their teammates and their experiences on the team.
Sophomore Jenna Presley is a biomedical sciences and behavioral psychology double major and rode throughout middle and high school. She is now on the E-Board for the equestrian team and still learning from her horses and teammates.
Riders have to work together with their horses similar to how another athlete would work together with their teammate. A lot of patience comes into play when training a horse.
"You can't just go and expect the horse to do perfect for you; you have to kind of work with the horse as a team." Presley said.
More than that, riders learn how to balance demanding majors while engaging in their passion of riding horses.
"Before I was on the team, and [before] I had to manage my school and this sort of time-consuming extracurricular, I was not good with time–I would be cramming things," Mendoza said.
Now, Mendoza has learned ways to balance studying biomedical sciences with the time commitment that comes with being on the equestrian team.
Even with Michigan's unpredictable weather, riders are able to continue their sport no matter the conditions. They have access to an indoor area for practices, and when they travel for shows, they participate inside a barn if the weather is undesirable.
The team practices in a barn in Hickory Corners and participates in nine horse shows during their season. Members are required to practice once a week, and the team has weekly check-in meetings to check up on how each other are doing.